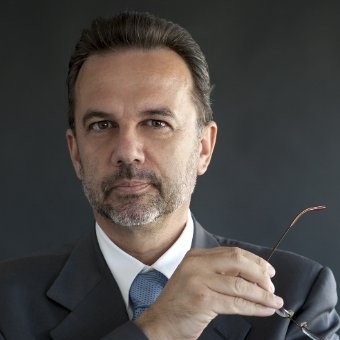 Kyriacos Kokkinos
Deputy Minister to the President of Cyprus for Research, Innovation & Digital Policy

Kyriacos Kokkinos is the Deputy Minister to the President for Research, Innovation and Digital Policy, since March 1st 2020. He previously served as the Chief Scientist for Research & Innovation of the Republic of Cyprus, Chairman of the Board of Directors of the Research & Innovation Foundation and Member of the National Board of Research & Innovation. He is a distinguished professional with 30 years of experience in Executive Management, Technology and Business Consulting, served at senior Executive roles in global corporations such as IBM Europe (Executive Director & Partner) and PwC.
He also served at the Board of Directors of many Organisations, including Invest Cyprus (Cyprus Investment Promotion Agency - CIPA), the Cyprus Tourism Organisation (CTO), the Cyprus Port Authority (CPA), and the Board of Trustees of the Cyprus Institute. He is the recipient of numerous awards and recognitions for professional excellence, including the 'Business Leader of the Year Award' 2016, by Cyprus Chamber of Commerce and the 'Quality Leader Award 2015' by Cyprus Quality Association. His Academic qualifications include Executive MBA in Strategic Management from Henley Management College (UK) and MSc & BSc in Electrical Engineering from New Jersey Institute of Technology (USA).
02.09.2022, FRIDAY Main Stage
Chat #1: Governance of FinTech in Europe
Title:
How the fintech sector is evolving. Prospects and challenges.
Can we make the financial system more efficient using technology?
Friday 29 January 2021
Keynote Speaker: Unlocking our Digital Future
Cyprus' competitiveness, sustainability and social prosperity strongly depend on its capacity to develop and advance its posture as a regional tech and sciences hub. Mr. Kokkinos will elaborate on the country's digital transformation journey, focusing on what has been achieved so far, and what are the Government's future plans, exploring the ways in which new technologies can establish Cyprus as a dynamic and competitive economy, driven by research, scientific excellence, innovation and technological development, while exhibiting sophistication in both market development and regulatory maturity. The Fintech industry and the Science and Technology (S&T) services sector such as Blockchain and Distributed Ledger Technologies are of strategic importance for Cyprus' transition to the digital era as well as key pillars of the new, diversified and more sustainable economic model we aspire to develop.